MAY WEBINAR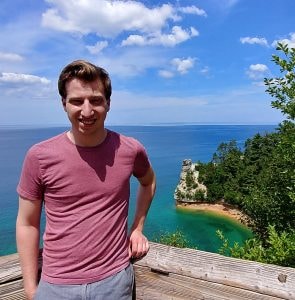 THURSDAY | May 25, 2023
9:30am EST
2:00pm EST
Register Now
PRESENTOR
Jacob Kneibel
Engineering Technical Lead
WEBINAR TOPIC
VibrationVIEW and TruClip™
This webinar will explore the new release features of VibrationVIEW 2023.2. Features include a new method of clipping, displaying test profile limits as percentage of shaker limits, and MIL-STD-810H SoR/RoR testing.
The focus will be on, TruClip, our latest innovation that utilizes closed-loop control to reduce high sigma peaks on the shaker table. This clipping method applies to the control measurement and minimizes the chance of exceeding maximum acceleration, velocity, or displacement limits.
TECHNOLOGY
You only need a device with a web connection; VoIP will also be available. After registering, we will email a web link and instructions to you. If you have not received an email prior to the start of the event, please email marketing@vibrationresearch.com.
When you first join a webinar, GoToWebinar will automatically detect the best join method for your device. For more information or to install in advance, please visit https://support.goto.com/webinar/att-user-guide.
Demo Software
We recommend downloading a free demo version of VibrationVIEW or ObserVIEW to follow along during the webinar
Following the webinar, we will email the recording to all registrants, even if you cannot attend live.

Vibration testing is a unique industry. Whether examining basic theory or advanced techniques, a collective resource for vibration test engineers is valuable. VR is committed to providing quality content that vibration test engineers can use in all stages of product development.
become the go-to
vibration expert.