A new version of VibrationVIEW (2023.2) is now available for download. In this latest software release, access Vibration Research's latest innovation, TruClip, view a new shaker limits display, and simplify MIL-STD and IEC 60068 tests.
TruClip™
Clip What Matters: Acceleration, Velocity or Displacement, Not Voltage
TruClip is a new method of clipping developed by Vibration Research that utilizes closed-loop control to reduce high sigma peaks on the shaker table. It applies clipping to the control measurement and minimizes the chance of exceeding acceleration, velocity, or displacement (AVD) limits.
Standard controllers apply clipping to the drive output, which reduces the extreme voltage peaks but changes the signal so that it is no longer Gaussian. This method does not restrict motion on the shaker table, which is necessary if an engineer is running a random test near shaker limits.
TruClip affects the control measurement on the shaker and reduces peak acceleration, velocity, or displacement during a random vibration test. Engineers can apply TruClip when running a test near the limits of the shaker or when testing a delicate product.
Test Profile Limits
Display as Percentage of Shaker Limits
When a user is developing a test profile, VibrationVIEW displays the maximum AVD for the selected shaker and indicates with color when the profile is close to or exceeds these limits.
In version 2023.2 and later, the software also displays the percentage of the AVD limit that the profile uses. This feature allows the user to quickly confirm the test profile shaker usage, which can be handy for long-duration tests where they cannot use 100% of the shaker capacity. This feature can also help when selecting a shaker system, as an engineer should not constantly run a system above 85% of its limits.
MIL-STD-810H SoR/RoR Testing
Define Harmonic Tone Amplitudes Automatically Given a First Frequency Slope
For sine-on-random (SoR) and random-on-random (RoR) tests, MIL-STD-810H defines the amplitude at f0, the f1, f2, and f3 frequencies are harmonics, and the amplitude requires a dB/octave slope. When a customer creates an SoR or RoR test, they must manually calculate the other tones using this slope. This manual calculation is time-consuming and inconvenient.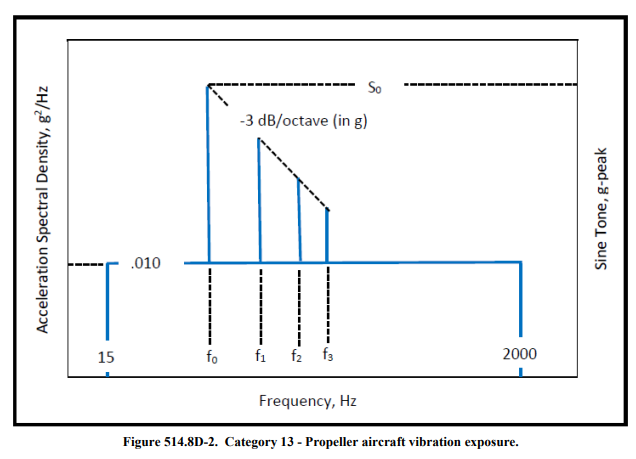 Now, users can input the slope into VibrationVIEW, and the software will automatically calculate the amplitudes for f1, f2, and f3. This feature makes creating MIL-STD-810H tests easier and saves time from manual calculations.