Quick & Easy Calibration
Calibrate a vibration accelerometer to determine its sensitivity at various frequencies of interest. Vibration Research uses the most convenient and least expensive technique (per ISO 16063-21): the back-to-back comparison method, approved by the International Society of Automation (ISA).
10-minute Procedure
Preloaded Sine test profile: select, adjust if needed, and run
Automatically generate a report (customizable template included)
Compare sensitivities and save new values; VibrationVIEW reads and re-writes to TEDS
Why Calibrate?
Early detection of incorrect sensor sensitivity​
Discover sensor defects​
Confidence in your test results
Save Time & Money
Vibration Research knows your time is valuable. Its accelerometer calibration package eliminates the need to pack and ship each accelerometer to be calibrated, reducing your downtime.
You can use the calibration package on all your accelerometers for one price, time and time again. Simply set up each unit for calibration, run the 10-minute verification procedure, retrieve the report, and continue with your day.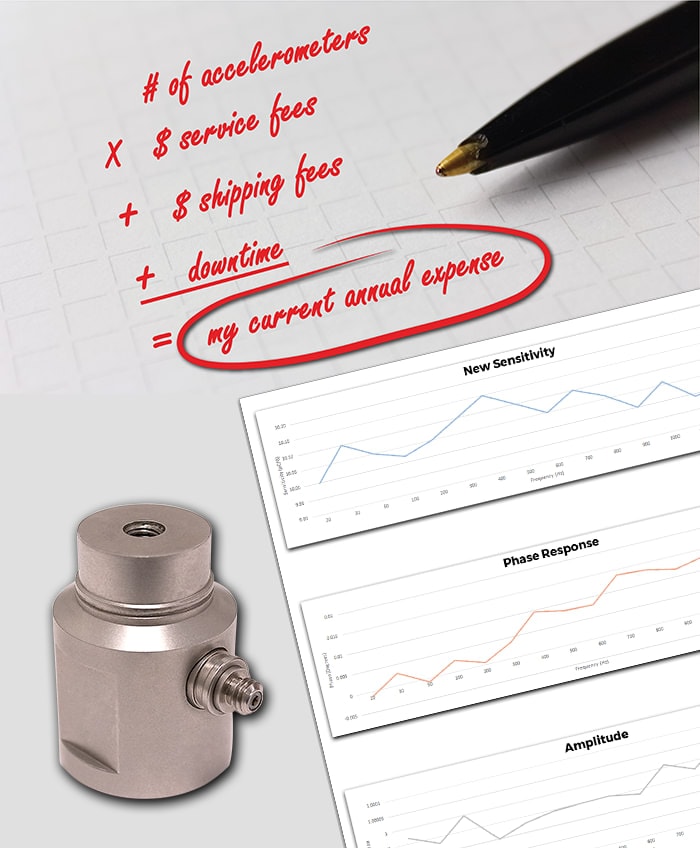 FULL PACKAGE
Available as a complete turn-key system including a shaker, 2-channel controller, reference sensor, and software (including TEDS and sensor database).
VR9500 Controller
Standard features: 2 analog inputs and 1 analog output (Drive) enabled
Sine Software
Includes: notching, multi-channel extremal control, VR9104 COLA
High-frequency Option (VR9103HF)
Extended frequency range to 50,000Hz control
Extended 20,000Hz analysis
Accelerometer Calibration Verification Software (VR9106)
Perform calibration verification, access an easy interface to calculate accelerometer sensitivity, and produce a calibration report suitable for record-keeping. Requires the Sine software, a minimum of 2 input channels, and a reference accelerometer.
High-frequency Shaker (VR5200HF)
Includes: 13lbs-f peak, DC to 14,000Hz, 0.5in max displacement
Back-to-Back Accelerometer (Based on availability)
Sensitivity, ±5%: 100mV/G
Frequency range, ±5%: 10Hz to 10,000Hz *
*±5, ±10, ±15 low-frequency calibration points included.
Custom Package
Already have one of the following? Ask for a quote today to complete your system. Vibration Research's software is compatible with your existing components, and its team can create a custom package.
Controller
Small shaker
Back-to-back accelerometer
Sine software
High-frequency Sine option
Accelerometer Calibration software (VR9106)