VibrationVIEW Software Package
Shock Response Spectrum (SRS)
Instant Degrees of Freedom (iDOF)
Fulfill Test Specifications
Generate test profiles or enter specifications with ease. The VibrationVIEW interface is intuitive and user-friendly, and the software is industry-leading. Access standard vibration testing modes built for ease of use and advanced features you won't find anywhere else.
Random Testing
In VibrationVIEW, fulfill test standards with random software features such as:
Tabular frequency/amplitude breakpoint table

Up to 9,999 entries
Enter values manually or copy/paste a table from Excel

Individual channel tolerances (PSD and RMS)
Control and channel aborts (RMS)
Spectral limiting/notching
Multi-channel average and extremal control
50 to 26,000 lines of control (>104,000 with the VR10500)
Probability density function (PDF) display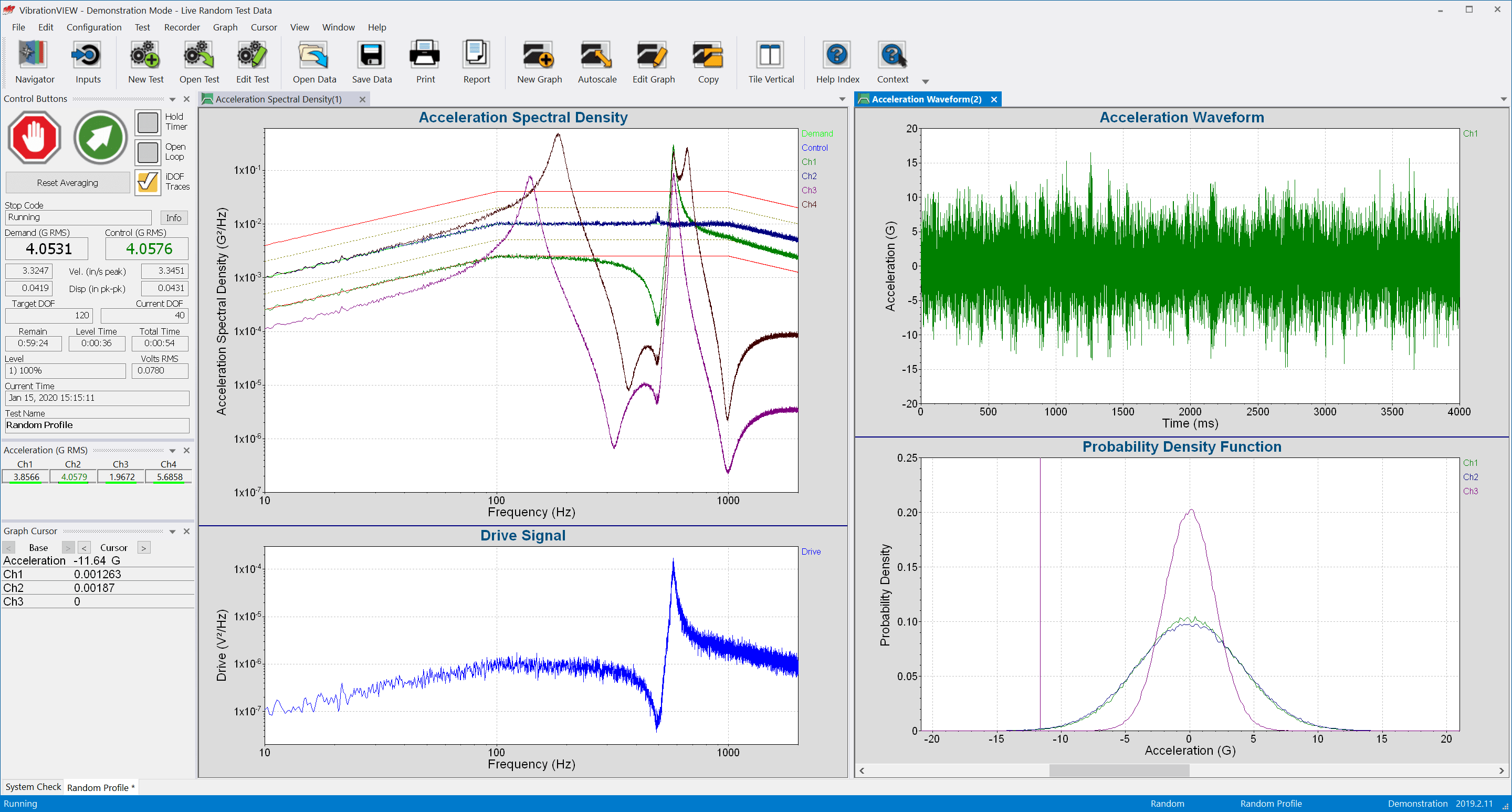 Sine-on-Random Testing
Sine-on-random (SoR) is a mixed-mode vibration test that runs both sine and random vibration. The quality and longevity of most aircraft components will benefit from mixed-mode testing. Learn more.
Short Duration Testing – iDOF

Instant Degrees of Freedom (iDOF) employs an advanced algorithm to deliver accurate and low-variance PSD estimates that are calculated quicker than traditional averaging. With iDOF, you can verify that the control PSD is within tolerance, determine how the test affects the DUT, and stop the test before the energy from a vibration resonance inflicts damage.
Kurtosion
Kurtosis Control
A closed-loop method of kurtosis control developed by Vibration Research. Kurtosion® allows you to adjust the RMS and kurtosis levels of a random test while maintaining the test profile and spectrum attributes.
Full RMS control
Moves acceleration values from the mean towards peak levels with no change in the GRMS
Full dynamic range
Controls the kurtosis of the acceleration without any reduction in dynamic range
Copy > Paste in Excel & Word
Copy and paste vibration test profiles and graphs between VibrationVIEW and Microsoft Word/Excel. This feature is especially useful when sharing profiles with colleagues, entering data from a customer, or entering lengthy or complicated test profiles.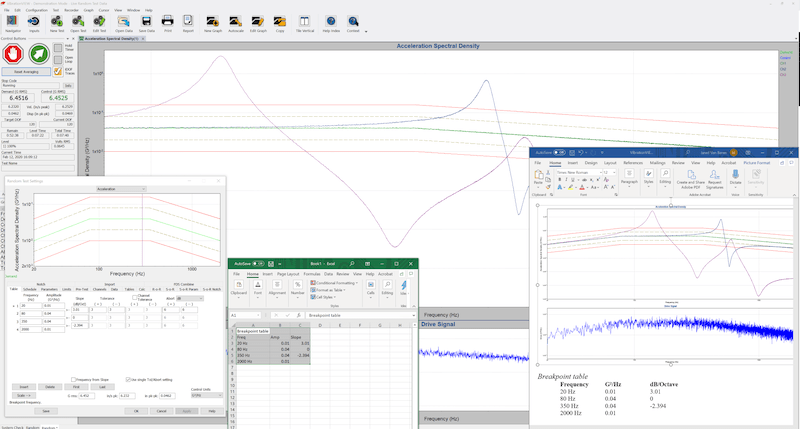 Shock Vibration Testing
High Channel Count System
VR10500 Vibration Controller
The VR10500 is a high-powered option for advanced vibration testing. VR engineered the VR10500 to coordinate with high-channel-count and multi-shaker systems.
Features
Small Satellite Testing
Test engineers use vibration testing to verify that a small satellite such as a CubeSat can withstand the launch environment. VibrationVIEW includes software modules applicable to small satellite vibration testing, including shock and random vibration testing and sine sweeps. Learn more.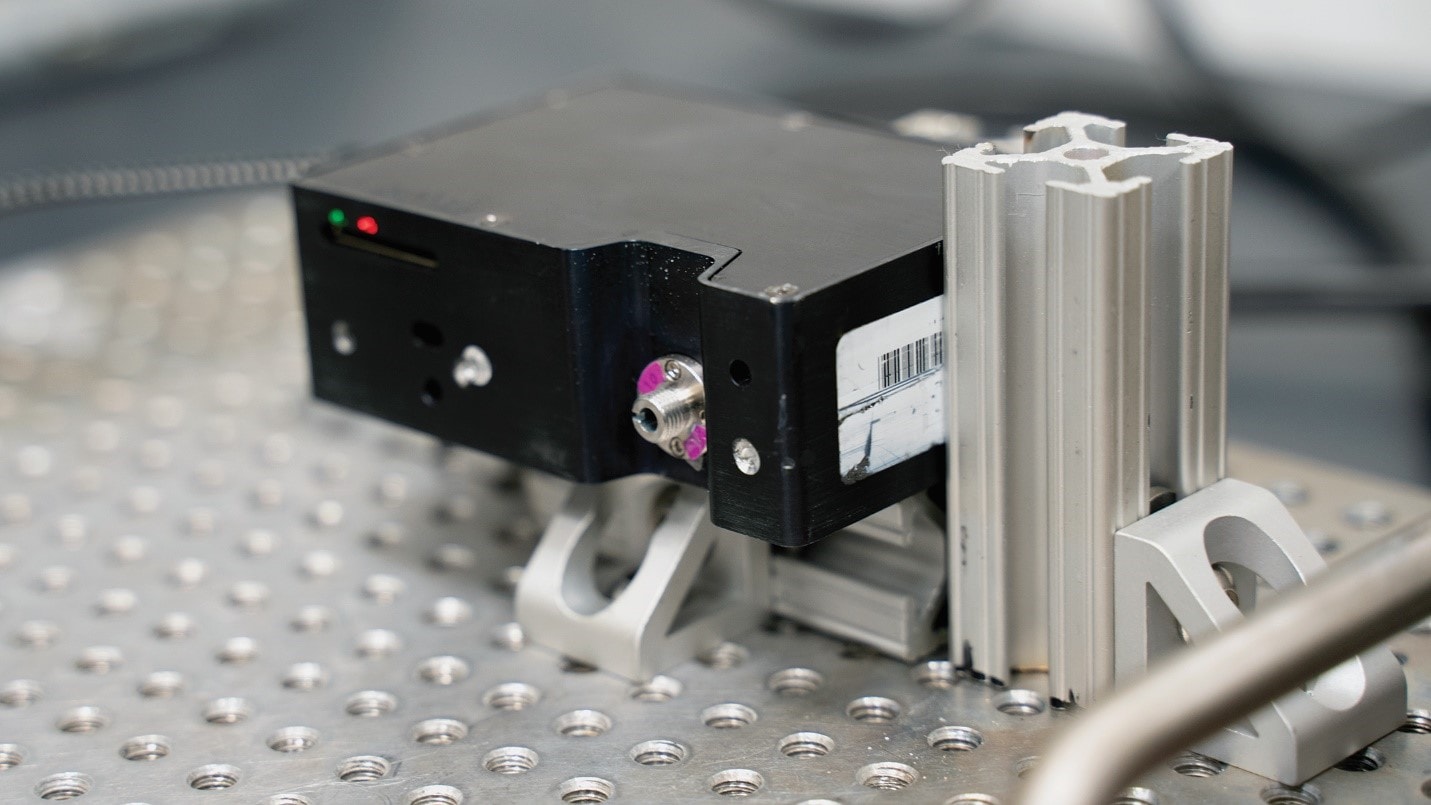 Shaker Compatibility
VR's controllers and control software are compatible with any shaker. Our qualified sales team can work with you to select the right equipment at the right price. We'll put together a custom package of hardware, software, and shakers for all your foreseeable testing needs.
Does your lab require large shakers? VR CAN HELP!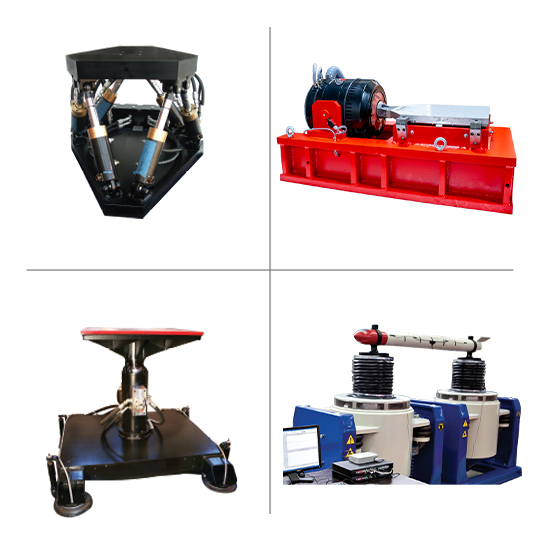 ObserVR1000 & VR Mobile
The ObserVR1000 hardware can be controlled remotely with the VR Mobile application, which runs on a smartphone or tablet using a WiFi connection. Set up, monitor, and modify field data recording without a wired configuration.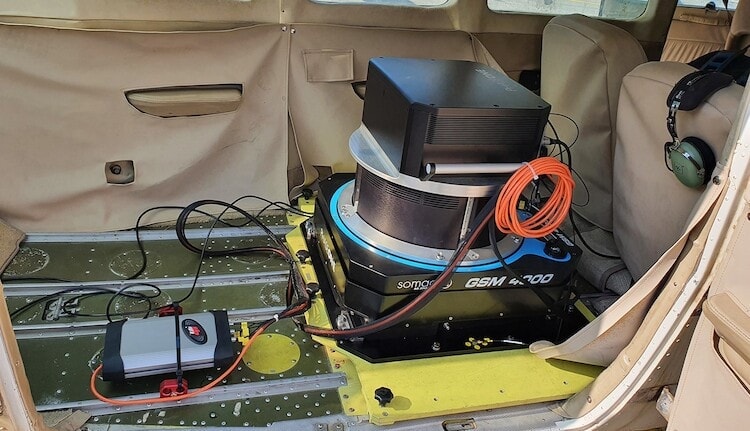 Autonomous DAQ
MONITOR TESTS REMOTELY
Observe live data recording from any mobile device. Select, start, and stop the test; analyze issues with a live FFT display.
SET UP AUTONOMOUS ACQUISITION
Define any number of triggering events to record data without interference. Save processing time, capture transient events, drive external equipment, and more.
CONNECT A TACHOMETER
Configure a dual or quadrature tachometer to measure rotation. Encoder types include wheel, rotational, or scalar.
DISPLAY GPS DATA
View position updates at about 1Hz along with GPS timebase synchronization. Then, play the GPS media files in sync with a waveform recording.
Aerospace and Defense Test Standards
Mix & Match Controllers with Shakers

Control modules can be used independently on separate shakers or linked into a single stack for jobs requiring a higher channel count (up to 512 channels total).
This cost-effective solution creates substantial savings for our customers.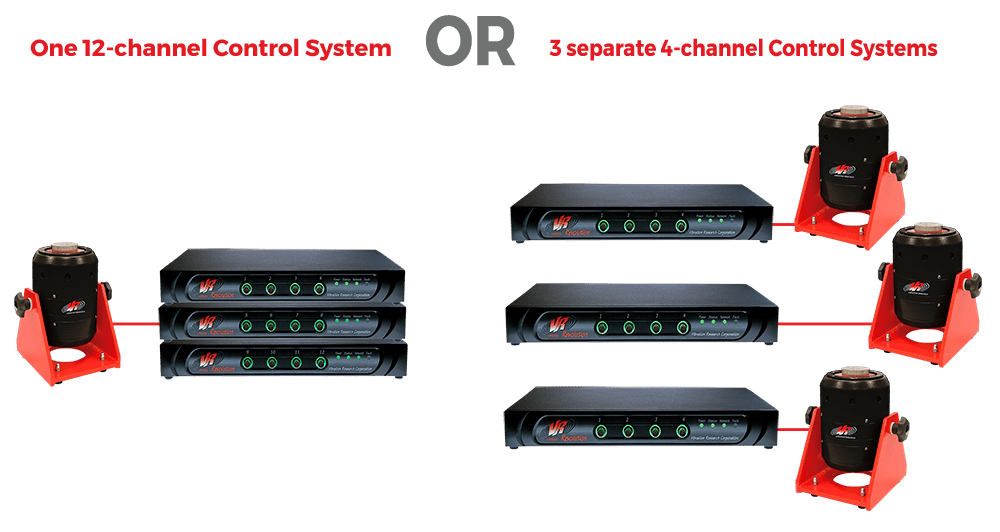 Data Acquisition & Analysis Applications Summary
Flight Recording
High Channel Count DAQ
In-Cabin Data Acquisition
Fuselage Components
Helicopter and Jet Vibration
PSD Analysis
And more!
Vibration Control Applications Summary
Component Durability
Helicopter and Jet Vibration
Pyrotechnic SRS Testing
Flight Simulation Testing
Launch Simulation Testing
Component Durability & Fatigue
Stress Screening
Search & Destroy Resonance
And more!