Optimize Vehicle Performance
Whether it's persistent vibration from the engine or transient shock from poor road conditions, an automotive vehicle will experience various forms of vibration throughout its lifetime. When it comes to noise and vibration, automotive testing encompasses many techniques, such as BSR, multi-shaker control, and order analysis of rotational components. Vibration Research offers a comprehensive suite of software options that address the many testing requirements for automotive vibration testing.
Customized Vehicle Test Profiles
Generate test profiles or enter specifications with ease. The VibrationVIEW interface is intuitive and user-friendly, and the software is industry-leading. Access standard vibration testing modes built for ease of use and advanced features you won't find anywhere else.
Full VibrationVIEW Software Package
Multi-Loop/Four-Post Control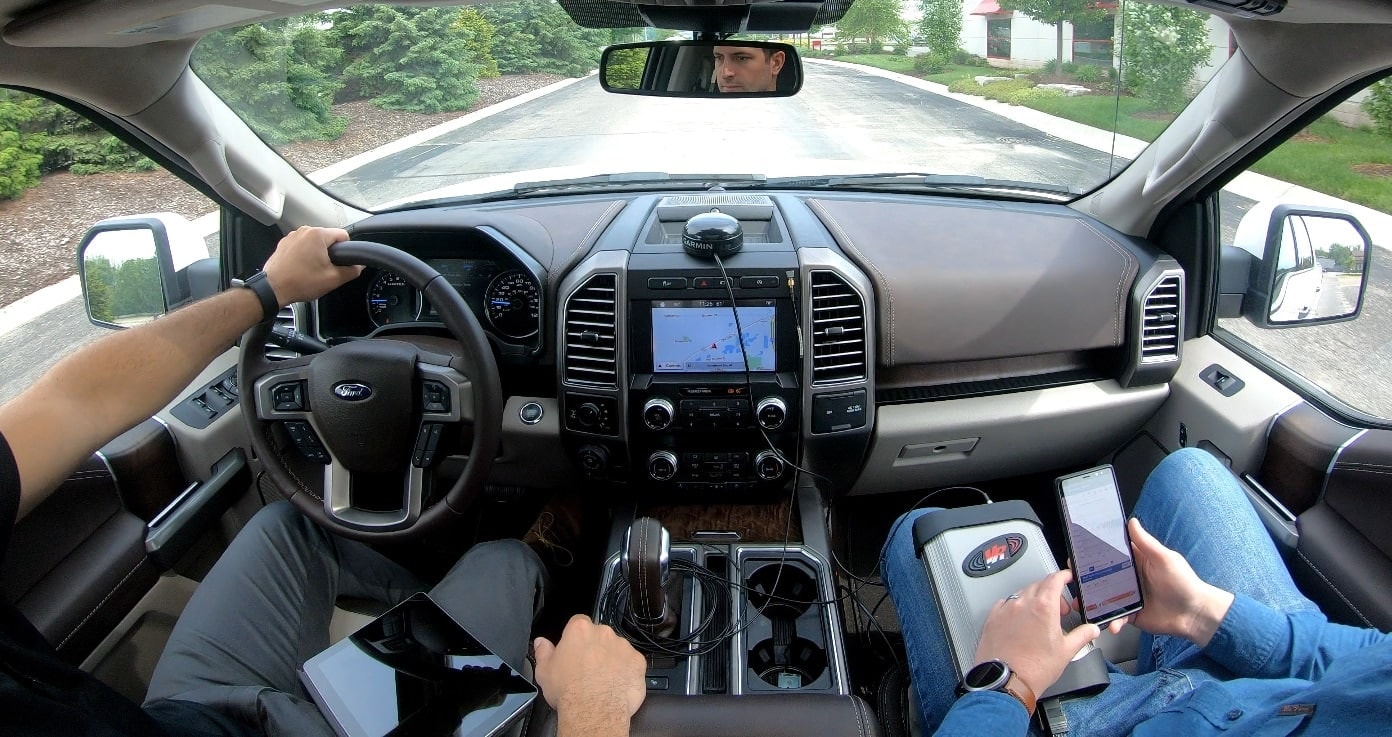 – MONITOR TESTS REMOTELY
Observe live data recording from any mobile device. Select, start, and stop the test; analyze issues with a live FFT display.
– SET UP AUTONOMOUS ACQUISITION
Define any number of triggering events to record data without interference. Save processing time, capture transient events, drive external equipment, and more.
– CONNECT A TACHOMETER
Configure a dual or quadrature tachometer to measure rotation. Encoder types include wheel, rotational, or scalar.
– DISPLAY GPS DATA
View position updates at about 1Hz along with GPS timebase synchronization. Then, play the GPS media files in sync with a waveform recording.
Autonomous DAQ
OBSERVR1000 & VR MOBILE
The ObserVR1000 hardware can be controlled remotely with the VR Mobile application, which runs on a smartphone or tablet using a WiFi connection. Set up, monitor, and modify field data recording without a wired configuration.
NVH Testing
NOISE, VIBRATION, AND HARSHNESS
Automotive manufacturers depend on noise, vibration, and harshness (NVH) testing to optimize vehicle performance and maintain a standard of comfort across their vehicle catalog.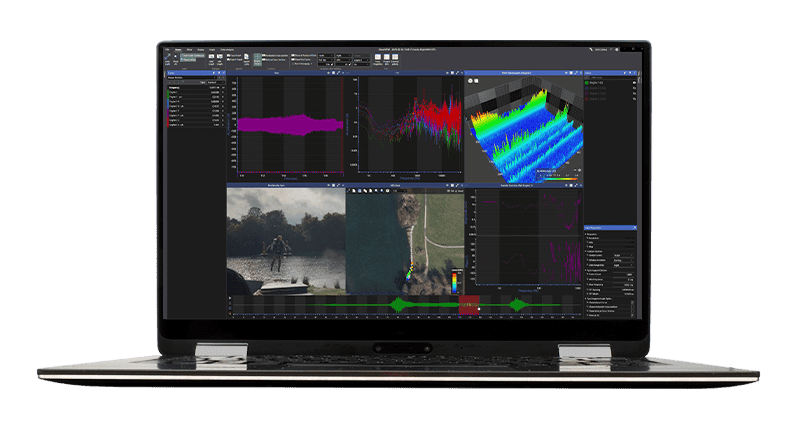 Four Post Random Vibration Test
Multi-Axis Control
Test Specifications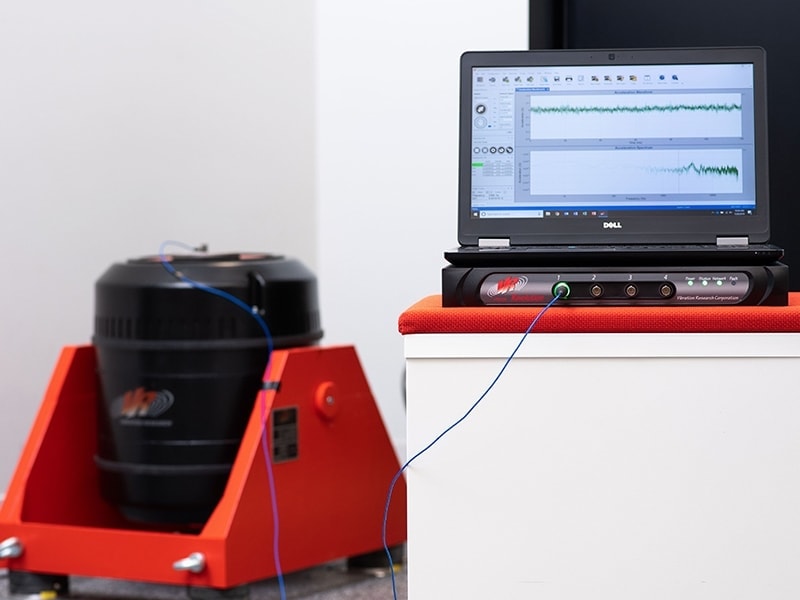 Electric Vehicle Battery Specifications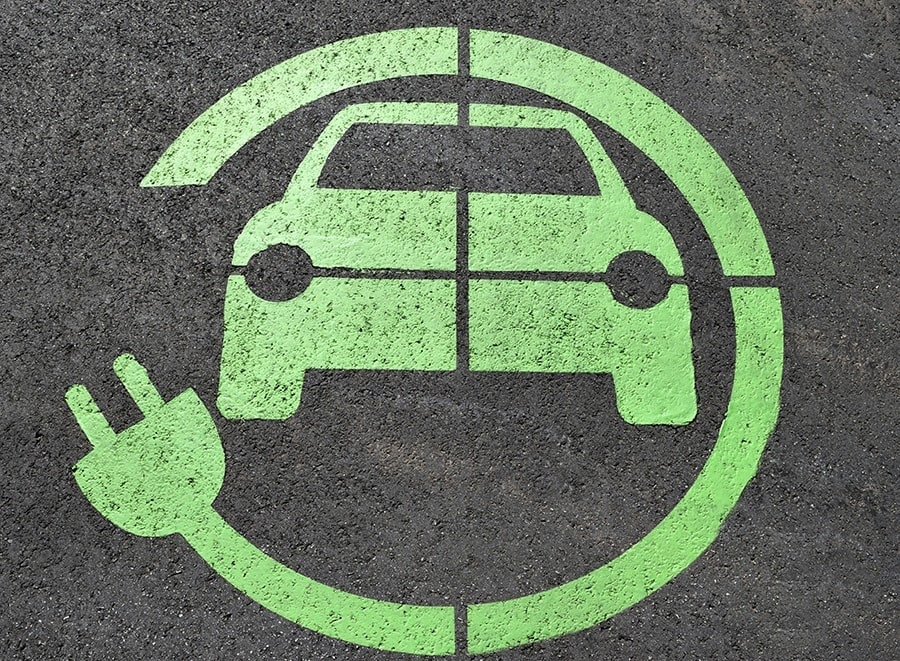 Electric vehicle (EV) battery technology is evolving rapidly in terms of both practical utility and significance to the automotive industry. Hybrid and all-electric vehicle segments are growing steadily, and major auto manufacturers are investing billions in new product development. As such, reliability and safety testing for EV batteries is becoming increasingly important.
– IEC 62660-2 (2018)
Reliability and abuse test for auto traction lithium-ion batteries; includes high-temperature endurance, temperature cycling, vibration, shock, crush, electrical short circuit, and forced discharge testing.
– SAE J2464 (2009)
An abuse test including hazardous substance monitoring, mechanical, thermal, and electrical abuse.
– SAE J2380 (2013)
Provides a test procedure for characterizing the effect of long-term, road-induced vibration on the performance and service life of electric vehicle batteries.
– UN 38.3 (2016)
Safe transportation of lithium metal and lithium-ion batteries, including altitude, temperature, vibration, shock, and impact/crash testing.
– ISO 19453-6 (2020)
Environmental conditions and testing standards for lithium-ion traction battery packs.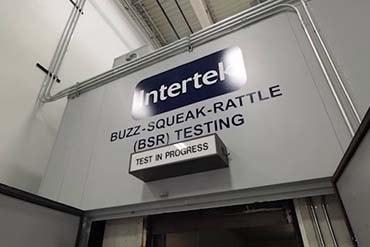 BSR Testing
Buzz, Squeak, and Rattle
Vibration Research offers control hardware and shakers customized for low-noise operation used in BSR testing, sound limit testing, sound recordings, and anechoic chambers. The VR9500 and VR10500 controllers have a low noise floor (<70nV/√Hz) with a 130dB dynamic range. The controllers are compatible with all hydroelectric and servo-hydraulic shakers and do not require a special board in the controlling PC.
Additional features include:
Control sine, random, or shock vibration to 50,000Hz
26,000 lines of resolution
24-bit analog inputs
Ford Motor Case Study
Lab technicians at a Ford Motor Company testing facility faced a puzzling and potentially dangerous dilemma. A fuel-rail on their 5.0L and 6.2L BOSS engines experienced several lab testing failures on the dynamometer they had not observed in the field.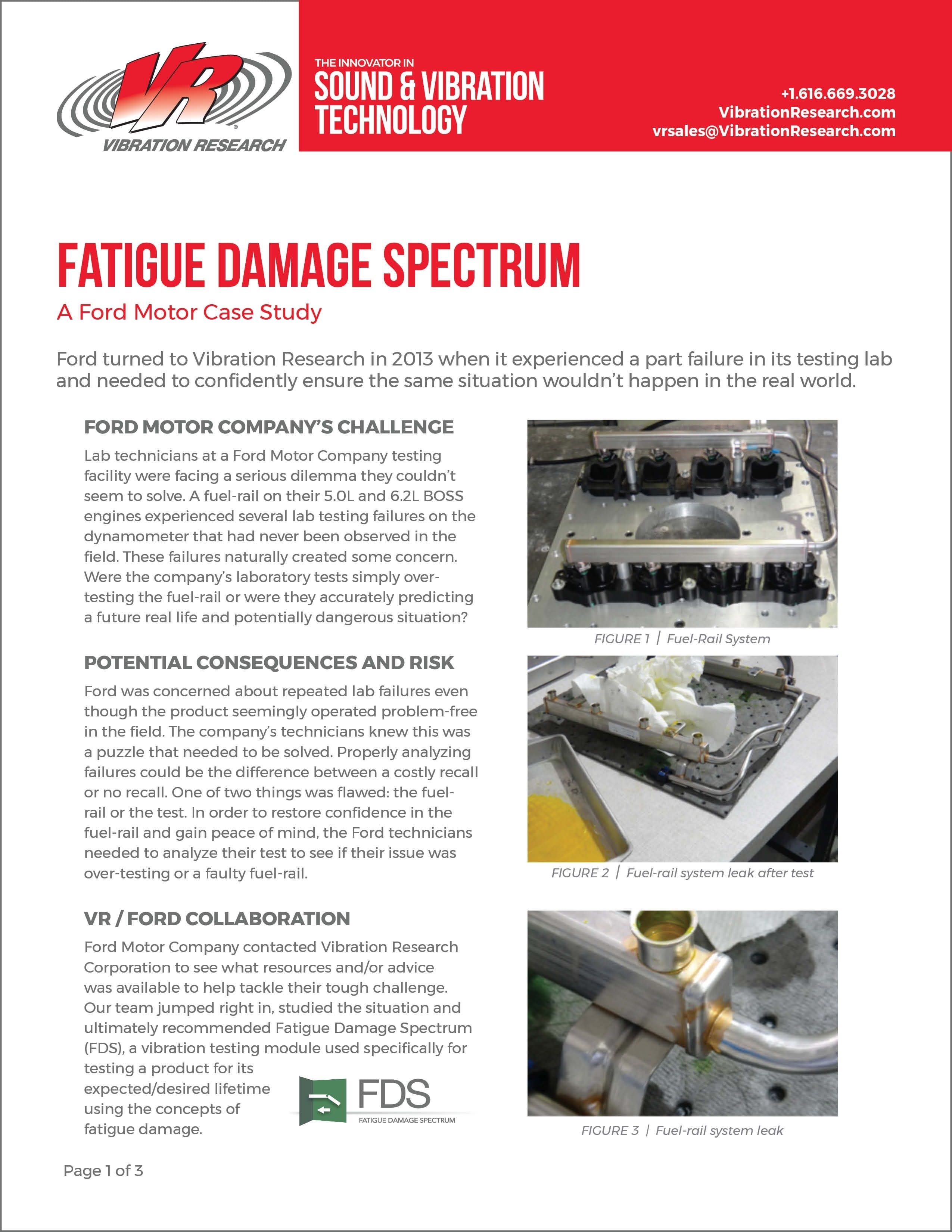 Were the company's laboratory tests simply over-testing the fuel-rail, or were they accurately predicting a real-life and potentially dangerous situation? The facility used Vibration Research's Fatigue Damage Spectrum software to solve Ford's product challenge.
Crankshaft Resonance Track & Dwell (SRTD)
The crankshaft in an internal combustion engine is subject to cyclic loading and is prone to fatigue damage.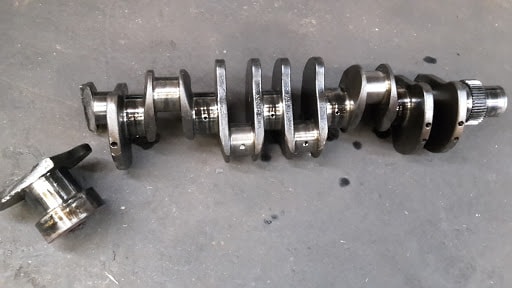 Test engineers can use Vibration Research's Sine Resonance Track and Dwell (SRTD) software to control high-cycle crankshaft fatigue tests with ease. The software features advanced controls such as peak tracking, adaptive feedback, and tracking filters. Phase, time, and frequency graphs also help to measure and observe test occurrences.
Replicate Field Data
Create test profiles that reflect the real world as close as possible and ensure that the product can withstand the vibration events it will experience in its lifetime. VibrationVIEW offers several test development methods where you can replicate the original environment of a product using recorded data. The result is a test profile that closely reflects—or is the equivalent to—the end environment.
Data Acquisition & Analysis Applications Summary
Event Triggering
NVH and Whole Body Vibration
In-Vehicle Data Acquisition
PSD Analysis
And more…
Vibration Control Applications Summary
Electrical and Electronic Components
Powertrain
Interior Components
Crankshaft SRTD
Buzz, Squeak, and Rattle
Random Acceleration
Component Durability & Fatigue
Transport Simulation
And more…