With proper maintenance, vibration control hardware should be serviceable for many years. However, if your current controller is out for calibration or simply not performing well, you may need a replacement vibration controller. There are several reasons for replacing a controller, including:
Compatibility with a new version of Windows OS
Improved testing/graphing/reporting capabilities
More computation and advanced control techniques
Support for more applications
Capability of meeting new test standards/requirements
Vibration Control Hardware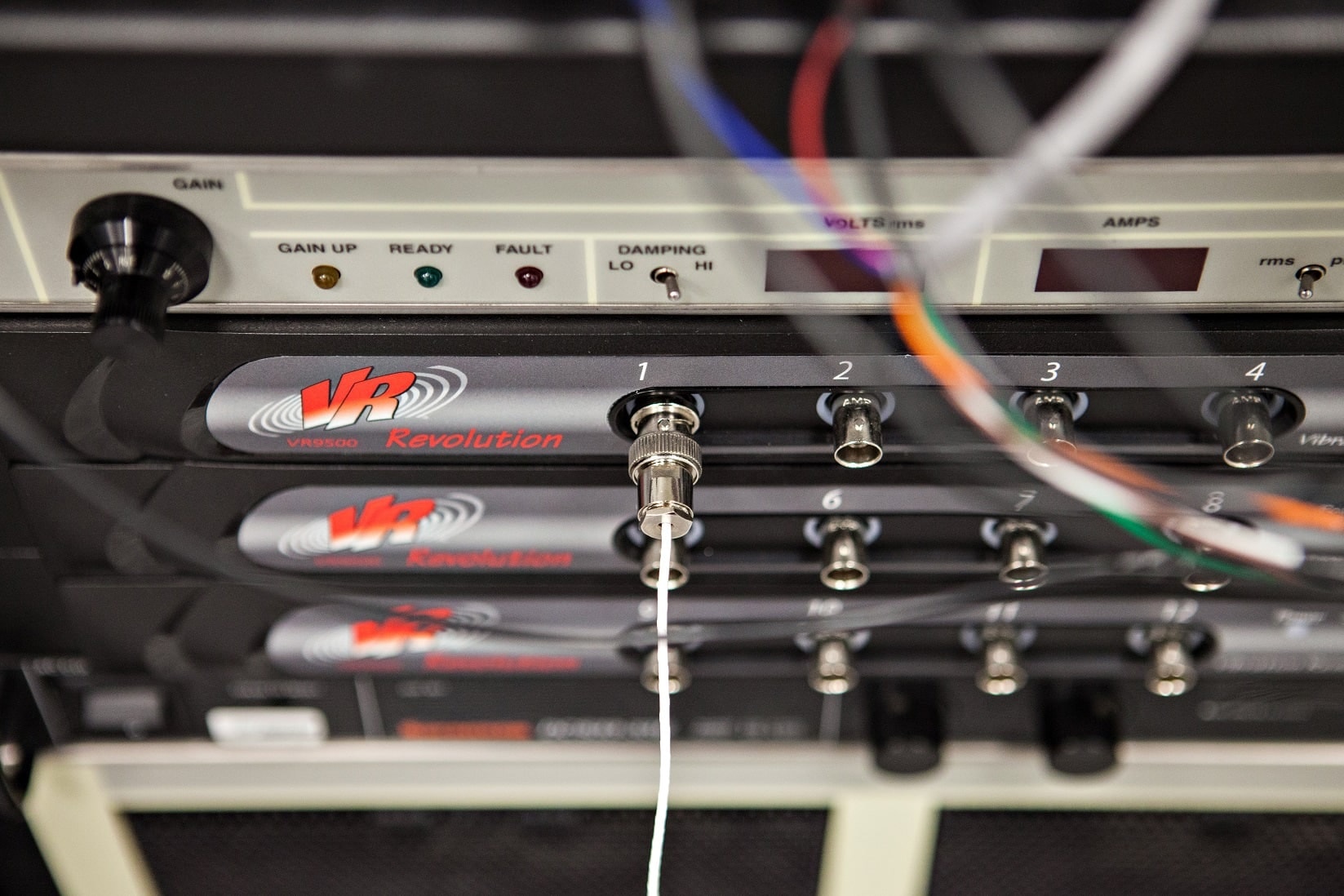 The vibration controller generates the output signal sent to the amplifier and measures the control and response sensors on the shaker. Along with the control software, the controller is the most critical component of the shaker system.
Most vibration controllers should be replaced every ten years. The control software should be routinely updated to make sure it can meet the requirements of the latest test standards and is compatible with the latest versions of the Windows operating system.
Compared to other pieces of equipment, the vibration controller has the most complex electronics. The electronics industry continuously releases new designs/capabilities for ADC, DAC, processors, FPGAs, and other components that help to control and analyze vibration data. Constant advancements generally result in older parts becoming obsolete. A vibration controller 20+ years in age will, most likely, be unrepairable in the event of damage because of the lack of availability of the replacement parts.
What to Look for in a Replacement Vibration Controller
When searching for a replacement vibration controller, you should consider both the hardware and software. Vibration control software allows for the dynamic control of data, and vibration controllers monitor and regulate signals with precision. Both must operate efficiently to run a successful vibration test.
To view the many capabilities of vibration control software, jump over to our VibrationVIEW and ObserVIEW software packages. Below, we list several features to consider when selecting new vibration control hardware.
Input Channels and Scalability
Channel count requirements depend on the number of locations you are collecting data from. For a large device, such as a satellite, engineers use hundreds of channels to collect data. A high channel count is also necessary to process large amounts of data.
The VR9500 is scalable from 1 to 128 channels, and the VR10500 is scalable from 8 to 512 channels. Both hardware devices can run independently on separate shakers, or technicians can connect them in a single stack for jobs requiring a higher channel count. The ObserVR1000 dynamic system analyzer can function as a 16-channel count controller for up to 128 channels.
Sample Rate
In vibration testing, the sample rate controls the rate of analog-to-digital signal conversion. A high sample rate acquires more data in a timeframe and can help form a more accurate representation of the original signal. As the sample rate increases, the reconstruction of the signal gets closer to "perfect." Note that perfect reconstruction is possible only in theory.
The control rate is based on the Nyquist rate, which is about half of the sample rate. Sampling over the Nyquist rate will result in over-sampling, and sampling below it will result in under-sampling.
The VR9500 has up to a 200kHz sample rate with up to 50kHz control, the VR10500 has up to a 256kHz sample rate, and the ObserVR100 has up to a 128kHz sample rate.
Lines of Resolution
Lines of resolution determines the resolution of a vibration spectrum. A lines of resolution value will include more spectral lines. A higher lines of resolution value is beneficial for low-frequency control and a more accurate excitation of resonances.
All vibration control hardware from Vibration Research support 104,000 lines of resolution.
Dynamic Range
The dynamic range represents the range of voltage that the hardware can properly control during a test. The maximum signal level, noise floor, and harmonic distortion determine the limits of a controller and make up its dynamic range. Test equipment, such as vibration control hardware, can never have too high of a dynamic range.
Support
More generally and possibly most importantly, you should review the reputation of the manufacturer. After you purchase a vibration control system, a responsive support team is a necessary tool for success moving forward.
At Vibration Research, we develop our own hardware, and our products are known for their reliability. VR warrants the controller hardware to be free of defects in materials and workmanship for the lifetime of the product (with a current U&SA agreement).
Additionally, ongoing support is just as important to us as the initial installation. Our support team is available to help with test profile creation, troubleshooting, custom forms and reports, and theory and application questions.
How Often is Other Vibration Test Equipment Replaced?
The five key pieces of vibration test equipment are:


Vibration control hardware
Vibration control software
Power amplifier
Shaker
Accelerometers and other sensors
Shakers
A properly maintained shaker can be in service for decades. Technicians can use them for as long as the replacement parts are available. Common components that will require replacement include:
Armature rewind: after the armature coil fatigues to a point of failure, it may need to be re-wound.
Armature replacement: in the case of physical damage, the armature will need to be replaced.
Flexures or support bearings: the most replaced component; the flexures or support bearings tied between the fixed body of the shaker and the moving armature and are subject to mechanical fatigue. They will require replacement after continued bending.
Sensors used to monitor/limit total travel or temperature: Sensors will fail over time and may need to be replaced.
All-in-all, shakers are robust and can be used for 20+ years when properly maintained. Newer shakers have more capability than many old shakers, especially in terms of the amount of displacement/velocity that can be generated. Three-inch stroke shakers are common in newer models and create many testing opportunities, but they are not necessary for all situations.
Power Amplifier
The power amplifier has a typical lifetime of 15-20 years. Power modules can be damaged during testing but can be replaced. Eventually, the power modules and other replacement parts become unavailable or expensive due to a lack of availability. However, most amplifier companies can retrofit a power amplifier with any shaker model.
VR Controllers: Compatible with All Shakers and PCs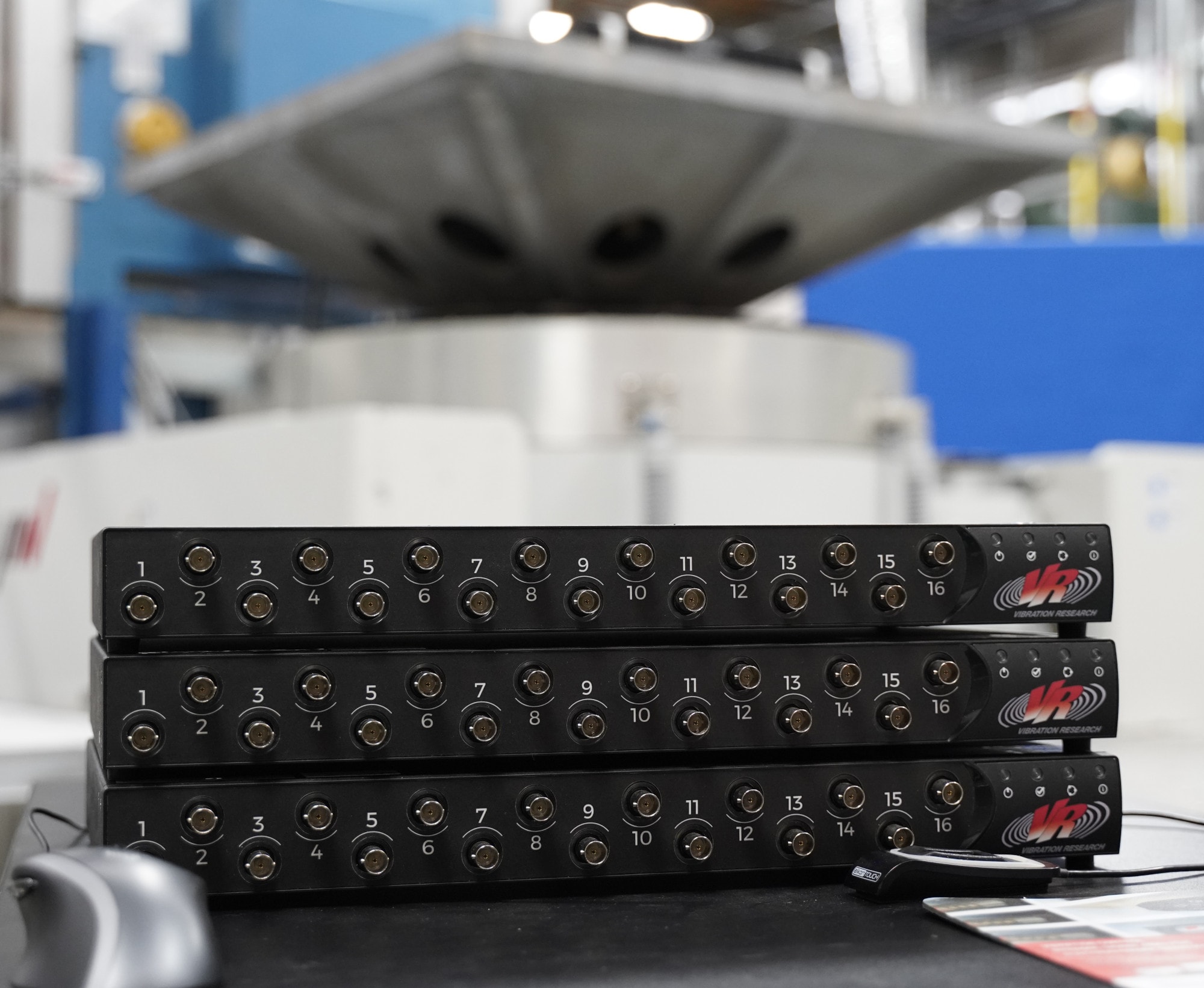 Vibration Research controllers are compatible with all electrodynamic, servo-hydraulic, and servo-electric shakers. The vibration control hardware can be added to any test setup, which can significantly reduce the cost of new equipment. The VibrationVIEW software, which can be run on all our hardware options, includes single-axis, dual-axis, dual-phase, rotational, three-axis, multi-loop/four-post, and seismic control options.
Additionally, any personal computer (PC) can be used to run VR software because the license key is carried in the controller. For some vibration control systems, the software is licensed to one PC and the same PC must be used every time.
If you select VR for your replacement vibration controller, you can use your current testing equipment. Of course, if you'd like to replace your shaker, we'd be happy to help you there as well. You can view our current shaker systems here.
With the VR guarantee, try our hardware and software fully enabled for 30 days. We are confident you'll choose VR for replacement vibration test controllers moving forward.
VR Vibration Controller Features
VR vibration controllers are dependable and intuitive. Paired with our industry-leading control software and reliable support team, Vibration Research is the smart choice when replacing a vibration test controller. Our hardware systems come with a lifetime guarantee and free demo units with all software enabled.
VR9500: lower channel count with mix-and-match capabilities
VR10500: 16 channel unit (8 channels minimum) with the highest specifications
ObserVR1000: all-in-one dynamic signal analyzer that also runs as a vibration controller
Interested in learning more? Visit the products page or view our support services.