The ObserVR1000 is a portable data acquisition system that also functions as a vibration controller. There are a few items to keep in mind when setting up this DAQ system for recording. To make it easy, we've compiled a checklist to review before you begin. We also strongly recommend reviewing the installation precautions and general safety features in the hardware manual.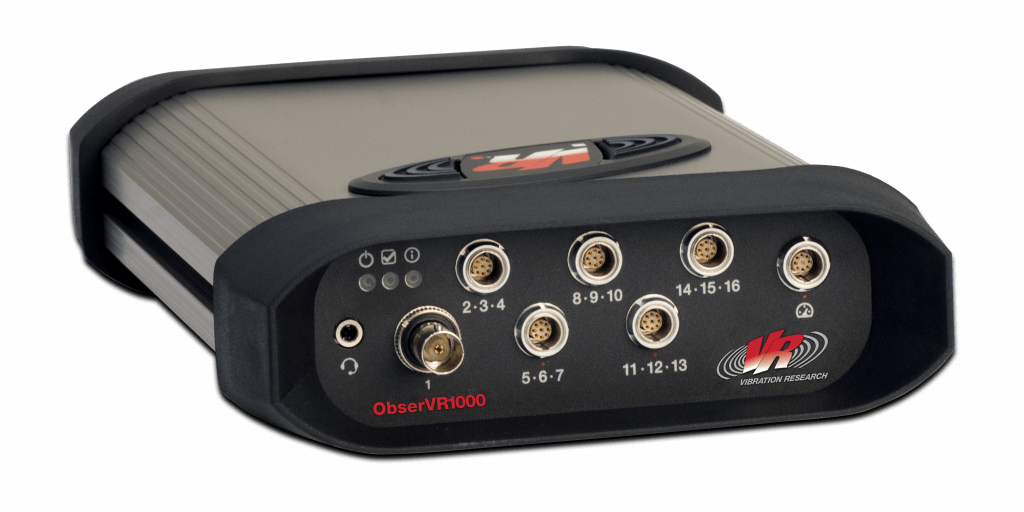 ObserVR1000 Recording Setup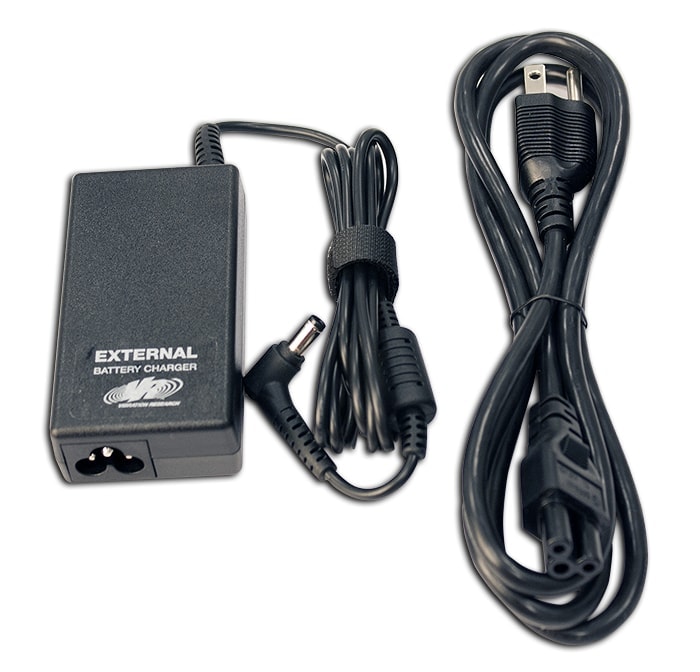 Charge the battery
The ObserVR1000 has a 6+ hour battery life plus an external battery port for an optional battery pack. If you are using the hardware as a portable device, be sure to fully charge the battery prior to testing. It takes about six hours to charge at room temperature.
In a lab or other stationary setup, be sure the power source is correctly installed.
Route the cabling
The cabling should be routed to avoid sources of electrical noise such as radio transmitters, broadcast amplifiers, power lines, and fluorescent lighting fixtures.
Verify Ethernet connection or insert an SD card
The ObserVR1000 has an Ethernet port that connects to an external computer. If you are using the ObserVR1000 as a dedicated DAQ system, make sure the amber and green indicators on the Ethernet port indicate Ethernet activity.
The ObserVR1000 also supports an SD card that provides storage for recorded data. If you are using the ObserVR1000 as a standalone system, make sure the SD card is installed and has enough storage for the recorded data.
Review environmental specifications
Confirm that the test environment does not exceed the environmental specifications.
TEMPERATURE
Operating: -4° to 131°F (-20° to 55°C)
Storage: -40° to 185°F (-40° to 85°C)
5 to 95% relative humidity, non-condensing
ATMOSPHERE
Up to 10,000ft MSL (3,048m): -4° to 131°F (-20° to 55°C)
Up to 20,000ft MSL (6,096m): -4° to 113°F (-20° to 45°C)
VIBRATION
Random: IEC 60068-2-64 at 5grms, 10 to 500Hz
Sinusoidal: IEC 60068-2-6 at 5g (peak), 10 to 500Hz
SHOCK
IEC 60068-2-27 at 30g/11ms half-sine and 50g/3ms half-sine
1m drop onto a hard surface
Check status LEDs
The three LED indicators on the front panel display the operator status. The status indicator will blink green when the ObserVR1000 is operating as normal. Check all other status indicators before recording.
Download/connect VR Mobile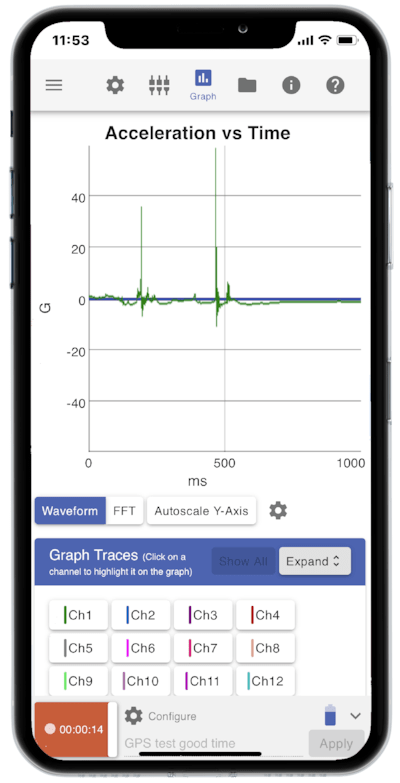 Download the VR Mobile application if you have not already and connect the application to the ObserVR1000. In the application, you can adjust the recording and channel input settings, configure tachometers or triggering, and much more. See the ObserVIEW Help file for more information about setting up/adjusting these controls.
Configure/Verify Inputs
In VR Mobile, select the three-line menu icon > Inputs to review the input configuration. Make sure the channels you want to record are connected, enabled, and configured correctly.
Time Synchronization
The time settings display the current time on the I/O unit, any connected phone, tablet, or PC, and other recording devices such as a GPS. If the time is out of sync, press the Sync Time button to synchronize the I/O unit time to the correct time. Learn more.
Checklist
Battery is fully charged or connected to a power source.
Cabling is routed to avoid sources of electrical noise.
Ethernet connection is verified, or an SD card is inputted.
Test environment meets specifications.
Status indicators are normal.
VR Mobile is connected to the hardware (NFC).
Inputs are enabled and configured.
DAQ system and connected devices are time-synchronized.
Software for Further Analysis
To avoid any downtime or unexpected costs after recording, be sure to review your software license to determine if you have the correct software to analyze your data. The ObserVIEW software has Basic and Advanced licenses, as well as licenses for modal testing and Sine Tracking, Analysis and Generation (STAG). Contact your sales rep or vrsales@vibrationresearch.com for more information.