Option 1: Send to Vibration Research for Accredited Calibration
Vibration Research is accredited by A2LA to ISO/IEC 17025:2005 and ANSI/NCSL Z540-1-1994.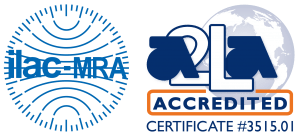 View our scope of accreditation
Option 2: Send to Vibration Research for Standard Factory Calibration
We offer a Factory Certified calibration service for all of our products.
Performance
Vibration Research calibration puts your equipment through the most thorough evaluation in the industry
Rigorous testing performed by our experienced engineers
Compliance
Cost Effectiveness
Our calibration plan delivers measurement confidence while supporting your business needs for a fixed and predictable cost of ownership.
Since calibration is essential over the life of your equipment, plans are discounted when purchased with an active Upgrades & Support Agreement (USA) or if multiple units are calibrated at one time
Option 3: Calibrate Yourself Using Software Written by Vibration Research
Perform calibration verification in your own lab using your own calibration instruments and Vibration Research's Automated Calibration Verification (VR95-CALxx) software license. The Automated Calibration Verification software is written by Vibration Research to automate the verification process.
Requires:
Automated Calibration Verification software license
Agilent/HP Digital Multimeter 34401A, 34410A, 34411A, 34465A, 34461A, 34470A, 3458A
Qty 5 BNC cables & Qty 4 BNC T's
Differential Adapter cable (Assembly)
**** This is not required, but if you are using a Serial port to USB adapter we recommend using the 232USB9M adapter. The above items are all available for purchase through Vibration Research. The automated procedure provides data and pass/fail information along with a certificate and a final report. Go to our archived webinar page and click on the Calibration tab to view a calibration verification video.
Instructions can also be found in your VibrationVIEW Manual.
Option 4: Perform Calibration Yourself With Your Own Custom Procedure
Create and run your own custom calibration procedure and documentation. Any factory support provided for your custom procedure will be billed at an hourly support rate.
GET IN TOUCH QUICKLY
Use the contact form to ask any questions you may have or request more information. Please provide us with your contact information so we will be able to reach you in case we have any questions. Or you can reach us by email or phone.
vrsales@vibrationresearch.com
+1.616.669.3028