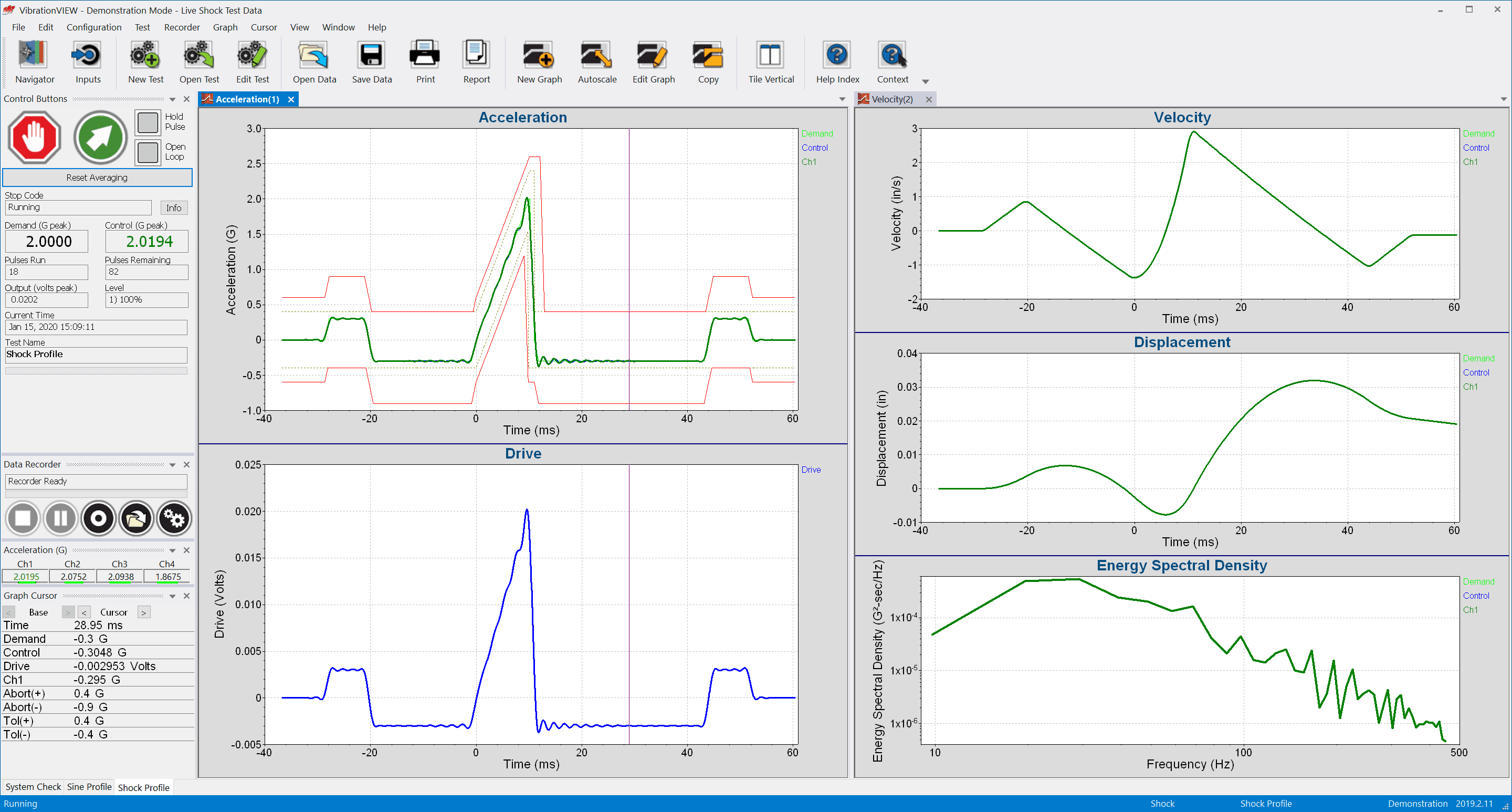 Shock Testing Software
Perform drop shock testing with the intuitive Shock software. It includes the standard classical shock pulses and the option to vary pre/post-pulse compensation amplitude and shape. Select the user-defined transient option to build a pulse from a recorded waveform.
Enter up to 200 separate levels and loop to repeat sequences
Select pre-defined tolerances from common test standards
Use the shock response spectrum (SRS) for complex pulses
Drop Shock Standards
VibrationVIEW includes pre-defined test profiles to meet common shock test standards. Save a new test profile for quick repeatability.
IEC 60068-2-27, IEC 60068-2-29, and IEC 60068-2-31
ISTA 6-Amazon-Over Box and ISTA 6-Amazon-SIOC
SAE J1455
MIL-STD-810
DO-106
EN 60068-2-27
Test Types
Freefall
Rotational edge drop
Incline/horizontal impact
Pyro-shock
and more
Electric Vehicle Battery Drop Shock Test
Drop shock testing is standard in the packaging industry but is applicable to many. Electric vehicle batteries (and other lithium-ion batteries) must meet international standards before shipment.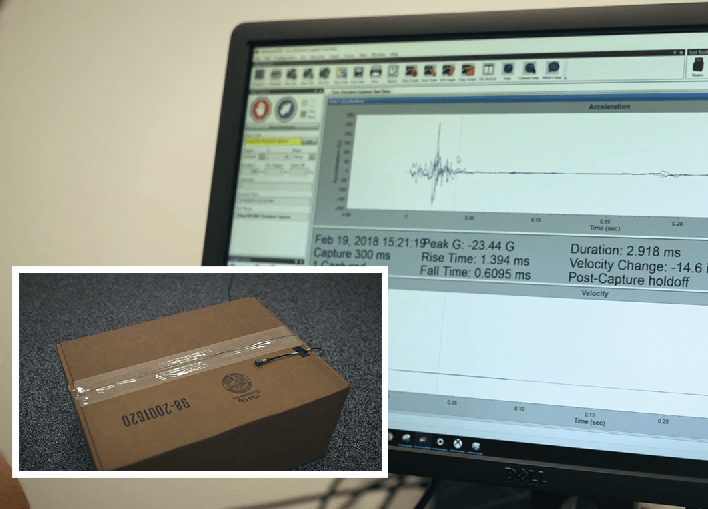 Record Transient Events
Record a transient waveform during data acquisition to use post-process with the Transient Capture software.
Define the triggering and data capture settings pre-test and allow the software to handle the rest. Use the captured waveform(s) alongside the acquired data or for analysis with the shock response spectrum (SRS).
Record 524,032 (64-bit version) or 65,280 (32-bit version) samples
Set a hold-off period to ignore triggers after the captured event
Apply digital filters to the input waveforms
Enable MIL-STD constraints on the pulse
Set tolerances outside the range of the pulse definition
Shaker Compatibility
Vibration Research controllers are compatible with all shakers, including:
Electrodynamic
Servo-hydraulic
Mechanical
Drop shock
Piezo-electric
Linear
VR9500 I/O UNIT
Vibration Research's best-selling control hardware for vibration and shock testing. Scalable to 128 channels; features include up to 200kHz sample rate and 2 outputs.
VR10500 I/O UNIT
Vibration Research's high channel count control hardware for vibration and shock testing. Scalable to 512 channels; features include up to 256kHz sample rate and 4 outputs for multi-shaker testing.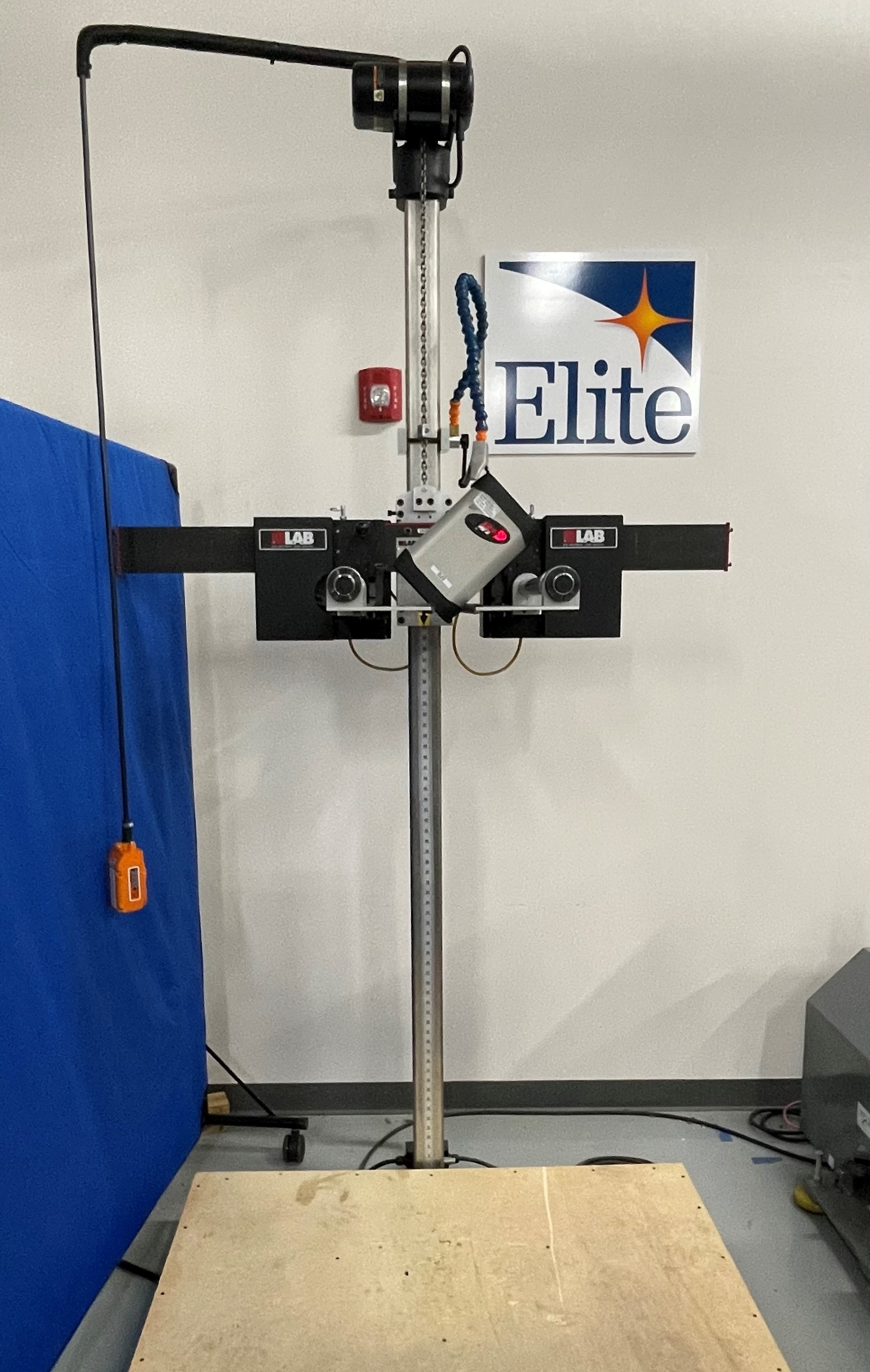 What is the difference between a drop shock machine and an electrodynamic shaker?
A drop shock machine can arrest movement using a mechanical method. A shaker cannot, so pre-/post- pulse compensation must be used instead. Moreover, a drop shock machine is capable of large changes in velocity and displacement.
While most classical shock pulses are defined in units of acceleration, the purpose of a shock test is to generate a delta-velocity and then determine its effect on the product. Drop tests were designed to generate a unipolar acceleration shape and a set delta-velocity.
When do I need to add pre-/post-pulse compensation?
Shakers can only generate a fixed amount of velocity and displacement, and continuous velocity and displacement can be dangerous and lead to damage. Therefore, pre-/post- compensation pulses must be added to stop the generated signal.
Compared to a mechanical shock machine, a shaker can be a reliable and efficient option for routine shock testing. To run a classical shock test on a shaker, however, the pulse must start and end at zero acceleration, velocity, and displacement. Pre-/post- compensation pulses are used to drive the shaker to these zero parameters.