Multi-loop with Phase Control
The VR10500 can now run up to 4 control loops for Sine, Random, Shock, and FDR test modes. Additionally, magnitude and phase control can be selected for individual loops in Sine and Random.
VR10500 Multi-loop Features
Up to 4 control loops for Sine, Random, Shock, and FDR (outputs on the primary controller only)
Magnitude and phase control for individual loops in Sine and Random (all loops use magnitude and phase control in Shock and FDR)
COLA output available for 3 or fewer loops
Embedded GEOBOX tripod geometry available for 3-loop systems
Stackable up to 512 channels
Tripod Outputs
Users can now define the geometry of a 3-axis translational-only tripod system in VibrationVIEW (the geo-box is no longer required or available.) The VR10500 outputs connect to the valve controller inputs, and you can enter tripod dimensions and limits as system limits.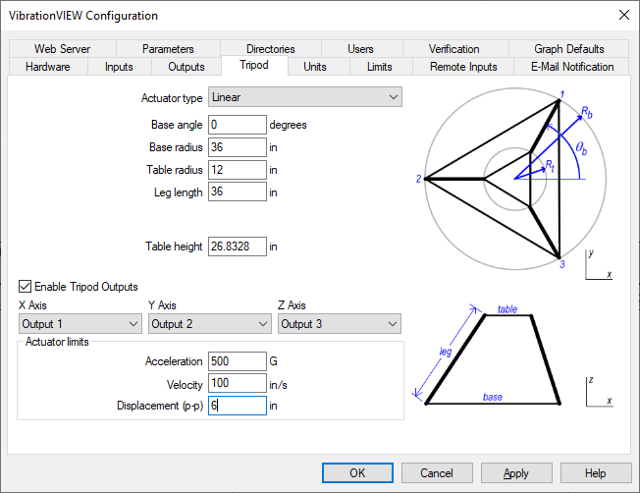 Sine Data Reduction
Sine reduction uses the COLA output of any controller to configure shaker control with a VR9500, VR10500, or ObserVR1000. Accurate frequency tracking ensures the identification of resonant frequencies for product development and qualification.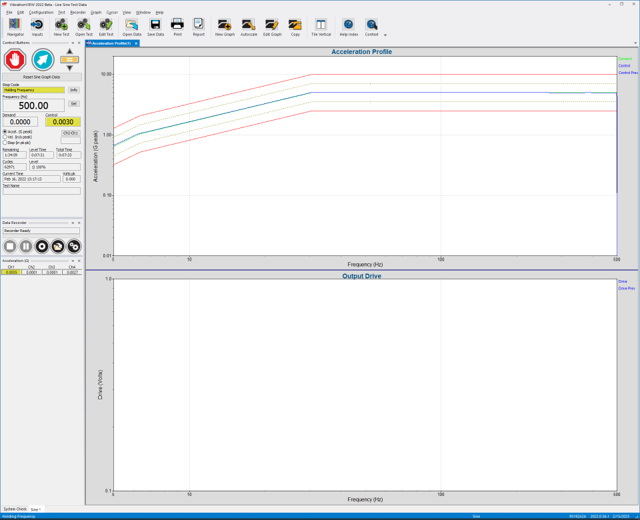 Adjust MIL-STD Tolerances for Shock Tests
A classical shock test will not run "in tolerance" if the demand waveform is on the pulse's tolerance lines. In such instances, the technician must manually adjust the pre/post compensation levels so that the demand is in tolerance. VR updated the MIL-STD-810G Change 1 and 810H tolerances so that the classical shock tests will run in tolerance.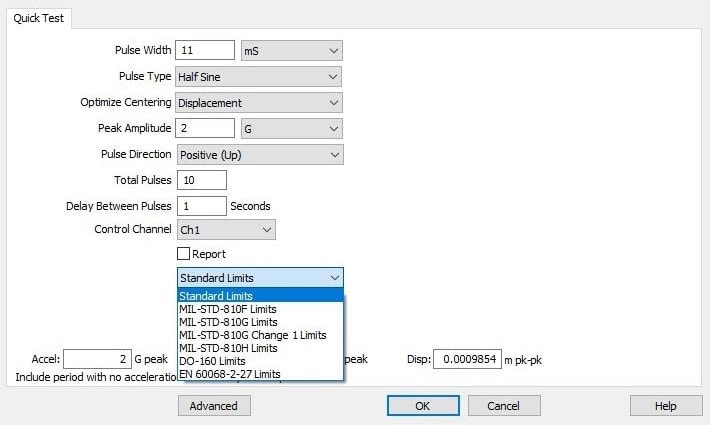 Sine Output Selection
An added Sine profile parameter allows the user to direct the loop drive to a user-selected output. It is ideal for switching between axes on a multi-axis system for systems that have multi-loop control in Random or Shock but not Sine.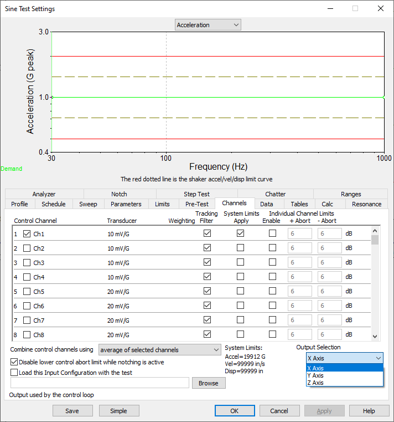 Improvements to Random Auto-Annotate Command
The auto-annotate command displays the amplitude and frequency of resonance peaks to graphs with a frequency y-axis. Improvements include the option to select multiple channels, group results, and view a tabular display of results.
New Shaker Manufacturers in Library
System limits in VibrationVIEW define the limits of a shaker system and the moving mass of its components. VibrationVIEW includes a drop-down list of common shaker models, which auto-fill the shaker's limits. Sentek Dynamics and STI shakers are included in this release.
2022.1 Release Webinar
Other V.2022 Features
Transient Capture/SRS: Allow math trace definitions on SRS traces
Specify default text color and background color for annotations
Include report parameters inside graph titles
Control level to options for resonance annotation
Sine: Slew rate limit stop code/event parameter
Start Using VibrationVIEW 2022
VR customers with a valid Upgrades and Support Agreement can upgrade to the latest software version for free. Anyone can download a free demo version.