COURSE DETAILS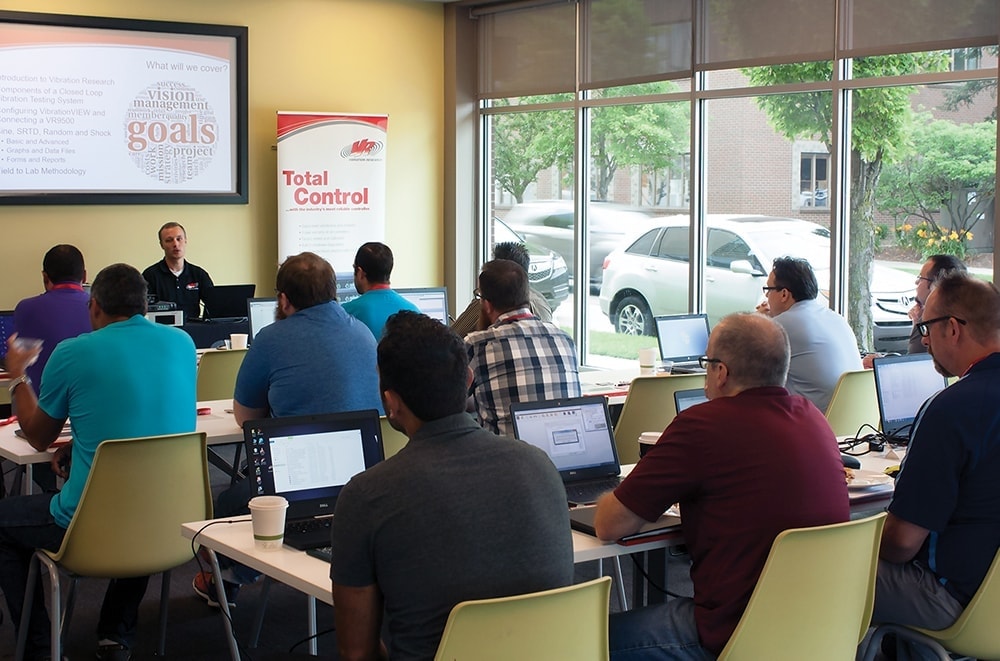 JADE VANDE KAMP Training and Education Manager VibrationVIEW User Training
Seminar PDF
COST
$700 per attendee $300 for each additional attendees from the same company
DESCRIPTION
This course will cover basic system installation and software setup with hands-on instructions for all test modes and software features, as well as configuring inputs (accelerometers), configuring shaker limits for test safety, running System Check mode for troubleshooting, using a strobe-scope, calibrating accelerometers, basic and advanced reporting, recording data with your VR9500 controller or ObserVR1000, and more.
SCHEDULE
9:00am – 4:00pm each day Continental breakfast, lunch, and snacks will be provided.
WHO SHOULD ATTEND
Engineers, Test Technicians, Application Engineers and anyone else who would like to understand the basics of VibrationVIEW software as well as advanced applications and features of the software. This is applicable for users of both the VR8500 and VR9500 Revolution series shaker controllers.
UPCOMING SEMINARS
Orlando, FL | February 2020
Topic: VibrationVIEW User Training
Instructor: Kevin Van Popering
Date: February 4 & 5, 2019
Time: 9:00am to 4:00pm
Course Fee: $700 per person, $300 additional attendees from same company.
Booking Link
Courtyard Orlando Downtown
730 N Magnolia Ave. Orlando, FL 32803
(616) 242-6000
Special Rate: $179
Cut off: January 3, 2020
Grand Rapids, MI | March 2020
Topic: VibrationVIEW User Training
Instructor: Jade Vande Kamp
Date: March 10 & 11, 2020
Time: 9:00am to 4:00pm
Course Fee: $700 per person, $300 additional attendees from same company.
Booking Link
Courtyard Grand Rapids Downtown
11 Monroe Ave NW, Grand Rapids, MI 49503
(616) 242-6000
Special Rate: $179
Cut off: February 10, 2020
El Segundo, CA | April 2020
Topic: VibrationVIEW User Training
Instructor:  John Holler
Date: April 14-15, 2020
Time: 9:00am to 4:00pm
Course Fee: $700 per person, $300 additional attendees from same company.
Booking Link
Courtyard El Segundo LAX
2000 E Mariposa Ave.
El Segundo, CA 90245
310-322-0700
Special Rate: $163
Cut off: March 13, 2020
Bloomington, MN | August 2020