Set Up Data Saves for Sine Sweep
Automate your product resonance searches
---
The Sine Resonance Track & Dwell (SRTD) option will sweep through a frequency range and then select the top 10 resonances based on your resonance criteria. The user can choose from transmissibility, q-factor or curvature selection methods. The user can also select to "phase track" the resonant frequency which "tracks" the shift in peak resonance as the product fatigues during the dwell cycle.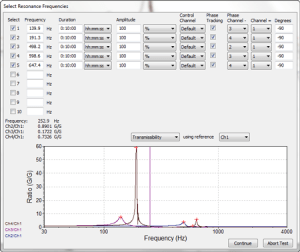 Sine Resonance Table
You can read more about VR9500 Controller and test options on our VR9500 Product page or our VibrationVIEW Test Software page.